Your client needs help figuring out her taxable income for 2019. 1. her employment income for 2019 = $143,000 2.
This problem has been solved!
Question:
Your client needs help figuring out her taxable income for 2019.
1. her employment income for 2019 = $143,000
2. she received a bonus of $15,000 in January 2019 re: her great job performance in 2018; just this month (Jan 2020) she also received a bonus of $14,000 re: 2019
3. she doesn't know a lot about investments, but she did have a few transactions in 2019 that she thinks you should know about:
a. Back in 2012 she received stock options from her employer. At that time, the shares were trading at $7/share which was the same as the exercise price for the options. In August 2019, when the shares were trading at $11/share she decided to exercise the options to buy 1,500 shares.
b. After holding on to her Canadian Tire shares for many years, she decided the time was right to sell a few of them. She had purchased them in 1997 at $40/share and sold 100 of them in May of 2019 for $110/share.
c. The Air Canada shares that she bought in 2011 at $37/share didn't seem to be paying off. She sold 500 shares in 2019 at just $17/share.
4. the only investment income she earned in 2019 was $500 of dividend income from the Canadian Tire shares
5. she paid $1,200 in investment management fees in 2019
6. the cost of her safety deposit box at the bank was $135 in 2019
7. her RRSP deduction limit in 2018 was $6,000 but she didn't have the funds available to make a contribution that year. This year (2019), she contributed $10,000 to her RRSP. Her earned income in 2018 was $150,000 and her pension adjustment was $19,000. She understands that she has no PSPA or PAR (although she isn't sure what that means).
8. she paid $1,000 in union dues in 2019
9. she made a $100 donation to a registered charity in 2019 (she has a donation receipt for this amount)
10. the cost of daycare for her son was $4,000 in 2019
11. she read somewhere that she should be entitled to the Canada Employment Amount of $1,222
12. her contribution to the CPP in 2019 was $2,544
Related Book For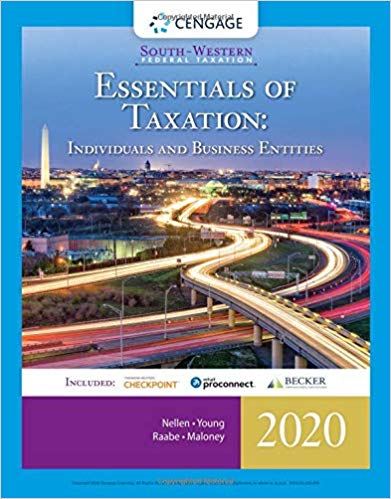 View Solution
Create a free account to access the answer
Cannot find your solution?
Post a FREE question now and get an answer within minutes.
*

Average response time.
Posted Date: March 02, 2021 05:45:28