On January 1, 2013, Heckert Company purchases a controlling interest in Aker Company. The following information is available: a. Heckert
Question:
On January 1, 2013, Heckert Company purchases a controlling interest in Aker Company. The following information is available:
a. Heckert Company purchases 1,600 shares of Aker Company outstanding stock on January 1, 2012, for $48,000 and purchases an additional 1,400 shares on January 1, 2013, for $51,800.
b. An analysis of the stockholders€™ equity accounts at December 31, 2012, and 2011, follows:

c. Aker Company€™s marketable securities consist of 1,500 shares of Heckert Company stock purchased on June 15, 2013, in the open market for $18,000. The securities are purchased as a temporary investment and are sold on January 15, 2014, for $25,000.
d. On December 10, 2013, Heckert Company declares a cash dividend of $0.50 per share, payable January 10, 2014, to stockholders of record on December 20, 2013. Aker Company pays a cash dividend of $1 per share on June 30, 2013, and distributes a 10% stock dividend on September 30, 2013. The stock is selling for $15 per share ex-dividend on September 30, 2013. Aker Company pays no dividends in 2012.
e. Aker Company sells machinery, with a book value of $4,000 and a remaining life of five years, to Heckert Company for $4,800 on December 31, 2013. The gain on the sale is credited to the other income account.
f. Aker Company includes all intercompany receivables and payables in its trade accounts receivable and trade accounts payable accounts.
g. During 2013, the following intercompany sales are made:


Heckert Company sells merchandise to Aker Company at cost. Aker Company sells merchandise to Heckert at the regular selling price to make a normal profit margin of 30%. There were no intercompany sales in prior years.
The trial balances of the two companies at December 31, 2013, are as follows: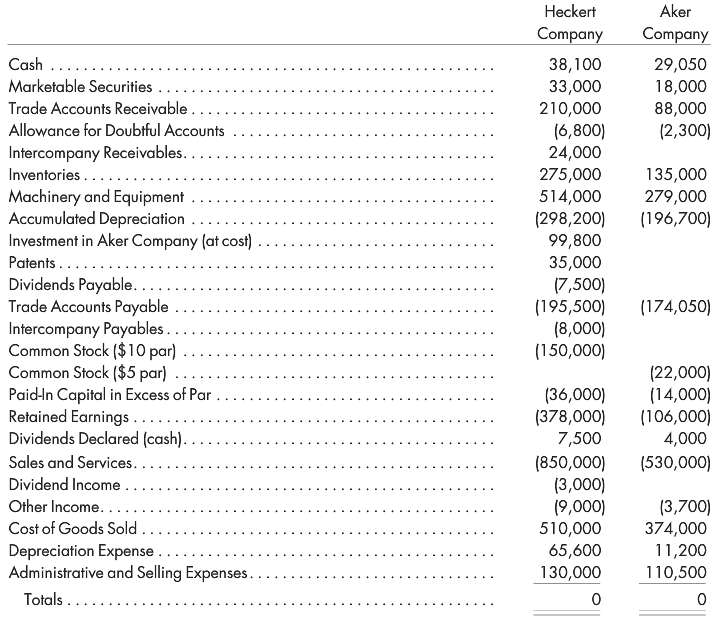 Required
Prepare the worksheet necessary to produce the consolidated financial statements of Heckert Company and its subsidiary for the year ended December 31, 2013. Include the determination and distribution of excess and income distribution schedules. Assume any excess of cost over book value is attributable to goodwill.

Financial Statements
Financial statements are the standardized formats to present the financial information related to a business or an organization for its users. Financial statements contain the historical information as well as current period's financial...
Accounts Payable
Accounts payable (AP) are bills to be paid as part of the normal course of business.This is a standard accounting term, one of the most common liabilities, which normally appears in the balance sheet listing of liabilities. Businesses receive...
Accounts Receivable
Accounts receivables are debts owed to your company, usually from sales on credit. Accounts receivable is business asset, the sum of the money owed to you by customers who haven't paid.The standard procedure in business-to-business sales is that...
Distribution
The word "distribution" has several meanings in the financial world, most of them pertaining to the payment of assets from a fund, account, or individual security to an investor or beneficiary. Retirement account distributions are among the most...
This problem has been solved!
Related Book For
View Solution
Create a free account to access the answer
Cannot find your solution?
Post a FREE question now and get an answer within minutes.
*

Average response time.
Question Posted: April 13, 2015 10:16:16