Baer Belly Bikinis, Inc. (BBB) is a small business located in Santa Monica, California. It sells swimwear and related products
This problem has been solved!
Question:
Baer Belly Bikinis, Inc. (BBB) is a small business located in Santa Monica, California. It sells swimwear and related products to specialty stores throughout the United States. It also sells its products to individuals over a company website. Paige Baer founded BBB almost 10 years ago after she graduated from the Fashion Institute of Design and Merchandising. She recognized the need for swimsuits sold as separates. Her business has grown rapidly, and now BBB has a large following of customers who want to be able to mix and match to find their ideal swimsuit. Currently, BBB products are carried in more than 1,000 specialty swimwear boutiques and online retailers.
During an initial interview with Paige Baer, she outlined BBB's business processes. She acknowledged that she doesn't know much about accounting and information technol- ogy. As the business grew, her accounting suffered and information systems were added piecemeal. So, she is looking forward to an assessment of her requirements and recom- mendations that would position BBB for substantial further growth. This case examines BBB purchases of fabric. BBB's production staff selects the fabric and materials for the swimsuits. This case also examines BBB purchases of and miscella- neous supplies and services. BBB works closely with local fab- ric vendors to determine the color themes for each season's products. When BBB has received enough orders from the retailer customers to estimate the quantity of swim- suits and products to manufac- ture, BBB then orders the required quantities of fabric and related materials from the fabric vendors. BBB pays each fabric vendor at the end of the month for all purchases during the month. For each fabric order, there is one receipt. For each receipt of fabric, there is one order. Consequently, the order and purchases (receipts) can be modeled as one event.
1. The Production supervisor places an order for fabric according to internal estimates of production quantities (the estimates are not part of the project).
2. Fabric vendors ship fabric in bulk to BBB usually within 2 weeks of the order.
3. A Shipping and Warehouse employee receives the bulk fabric and verifies quantities received. BBB also purchases miscellaneous services and supplies, such as electricity, water, sew- age, garbage, phone, and janitorial services. It also pays monthly rent on the building, purchases office supplies, hires photo shoot models and photographers, and so on. BBB pays its miscellaneous suppliers at the end of the month for all purchases during the month. BBB assigns sequential numbers to each check issued. All checks for purchases (both fab- ric and miscellaneous) are written on its main bank account. Here are the questions that go with the information.
Required:
1.Based on the preceding information and the following attributes list, prepare a UML class model and corresponding table listing describing BBB's purchases and payments process. List the tables in the following order: resources, events, agents, type images, and linking tables. Identify the primary keys and foreign keys in each table. [optional] Prepare a second UML model that combines the fabric and miscellaneous purchases events and the fabric and miscellaneous vendor agents. Show how you might model a way to differentiate among the types of vendors.
2. Based on the preceding information, prepare a BPMN activity model that describes BBB's purchases and payments process. The model should begin with BBB placing orders with its vendors and end when BBB makes payments for the purchases to the vendors.
Related Book For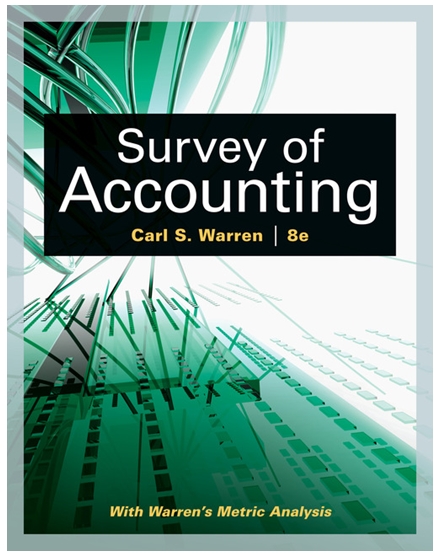 View Solution
Create a free account to access the answer
Cannot find your solution?
Post a FREE question now and get an answer within minutes.
*

Average response time.
Posted Date: October 11, 2018 07:01:12