A police officer pulls you over and asks to search your vehicle because he suspects you have illegal drugs...
This problem has been solved!
Question: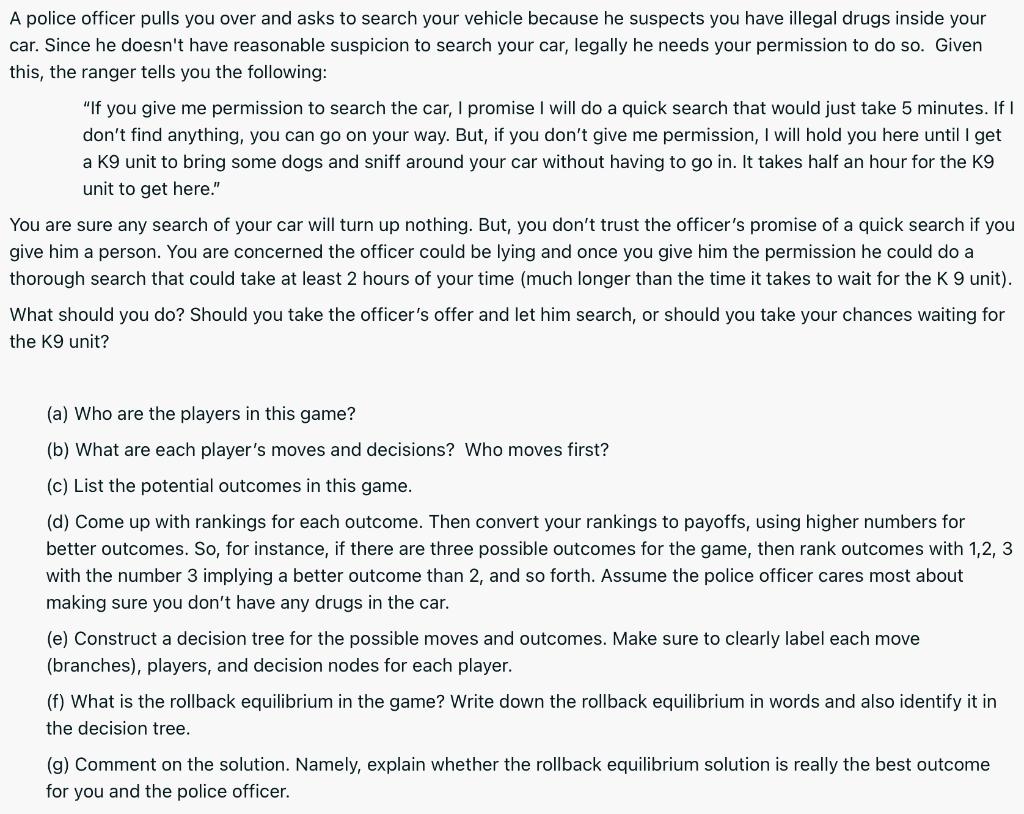 Transcribed Image Text:

A police officer pulls you over and asks to search your vehicle because he suspects you have illegal drugs inside your car. Since he doesn't have reasonable suspicion to search your car, legally he needs your permission to do so. Given this, the ranger tells you the following: "If you give me permission to search the car, I promise I will do a quick search that would just take 5 minutes. If I don't find anything, you can go on your way. But, if you don't give me permission, I will hold you here until I get a K9 unit to bring some dogs and sniff around your car without having to go in. It takes half an hour for the K9 unit to get here." You are sure any search of your car will turn up nothing. But, you don't trust the officer's promise of a quick search if you give him a person. You are concerned the officer could be lying and once you give him the permission he could do a thorough search that could take at least 2 hours of your time (much longer than the time it takes to wait for the K 9 unit). What should you do? Should you take the officer's offer and let him search, or should you take your chances waiting for the K9 unit? (a) Who are the players in this game? (b) What are each player's moves and decisions? Who moves first? (c) List the potential outcomes in this game. (d) Come up with rankings for each outcome. Then convert your rankings to payoffs, using higher numbers for better outcomes. So, for instance, if there are three possible outcomes for the game, then rank outcomes with 1,2, 3 with the number 3 implying a better outcome than 2, and so forth. Assume the police officer cares most about making sure you don't have any drugs in the car. (e) Construct a decision tree for the possible moves and outcomes. Make sure to clearly label each move (branches), players, and decision nodes for each player. (f) What is the rollback equilibrium in the game? Write down the rollback equilibrium in words and also identify it in the decision tree. (g) Comment on the solution. Namely, explain whether the rollback equilibrium solution is really the best outcome for you and the police officer.
Expert Answer:
a Police officer and car owner b Police officer move Frist for checking purposes of Car as drugs suspect vehicle this police officer s move and car ow

View the full answer
View Solution
Create a free account to access the answer
Cannot find your solution?
Post a FREE question now and get an answer within minutes.
*

Average response time.
Posted Date: October 01, 2021 23:58:59

Students also viewed these physics questions