Ahmed Znouber, a highly effective manager and at Alif fund Management, announced his retirement this summer at 34. He now
This problem has been solved!
Question:
Ahmed Znouber, a highly effective manager and at Alif fund Management, announced his retirement this summer at 34. He now intends to devote more time to his expanding family. The management team at Alif now has the arduous task of replacing the seemingly infallible boss. Two candidates have been chosen as finalists: Mona Al Andaloussi, a twenty-five-year-old graduate who has worked in a bank for three years, is the first contestant. She is not a university graduate.
Aziz Bensouda, a twenty-seven-year-old AUI graduate, is the second contestant. He has two years of experience managing a development fund. Based on their philosophies on what makes a good banking boss, the management team is split. CEO Meryem Mouhib, an MBA holder who is impressed by educational credentials and prefers Mr. Aziz Bensouda leads one group. She claims educated managers are more intelligent and well-educated. The other party is led by Ahmed Znouber himself. In the early 2000s, he dropped out of school to pursue a career as a banker. For the next ten years, he maintained his popularity and could retire early. He had always believed that a university diploma was useless.
Therefore, he prefers Mona Al Andaloussi as a nominee. The two candidates were invited for an interview with the management of Alif fund Management at the headquarters to test their skills. The two candidates were provided with a dataset (ABCDEFJHI) with 2 sheets, the first sheet contains data on the stock return for companies A, B, C, D, E, F, G, H, and I, where the gain (or loss) on investment is divided by the investment's value to determine the return on investment. Sheet 2 contains a summary related to information on the proportion of educated and non-educated bankers and the proportion of those bankers outperforming (i.e. doing better than the market average) the market.
The two nominees were asked to address the following inquiries:
1. For each set of returns, i.e., for every firm, draw a histogram of returns and report on your findings. Which firm would you choose to invest in and why?
2. Calculate the mean median the variance and standard deviation. What do these measures tell us about the risk associated with each investment? More specifically, which investment is a low-risk investment? In other words, do your answers to questions (1) concur with those to question (2)?
3. Select the two stocks with the largest mean returns and construct a portfolio consisting of equal amounts of both stocks. Determine the expected value and standard deviation of the portfolio.
4. Construct a 95% confidence level for the return of the portfolio that you chose in answer to (3).
5. From 2006 through 2020, investing in bonds returned 0.5% each year. Which firm has a return that is higher than the average return on the bonds? For the next inquiry, you wish to understand why some managers are more successful than others. One factor is whether the banker earned a university degree. To answer this question, the 2 candidates need to use data from the following contingency table: Manager has a university degree and outperforms market: 0.11 Manger has a university deg and does NOT outperform market:0.29
Manager does NOT have a university degree and outperforms market: 0.06
Manager does NOT have a university degree and does not outperform market:0.54
6. Suppose that we select the return of one firm at random and discover it did not outperform the market. What is the probability that the manager has a university degree?
7. Determine whether having a university degree and outperforming the market are independent events.
As an employee of Alif fund management yourself, you want to fast-track your way in the corporate ladder and think that you can address the questions better than both Mona Al Andaloussi and Aziz Bensouda. You go meet Ahmed Znouber in his office and ask to answer the questions to be benchmarked against the answers of the 2 nominees. Ahmed responds, "Go for it, and if your answers are better than those of the two other candidates, we will promote you."
He provides you with a copy of the dataset that you can find below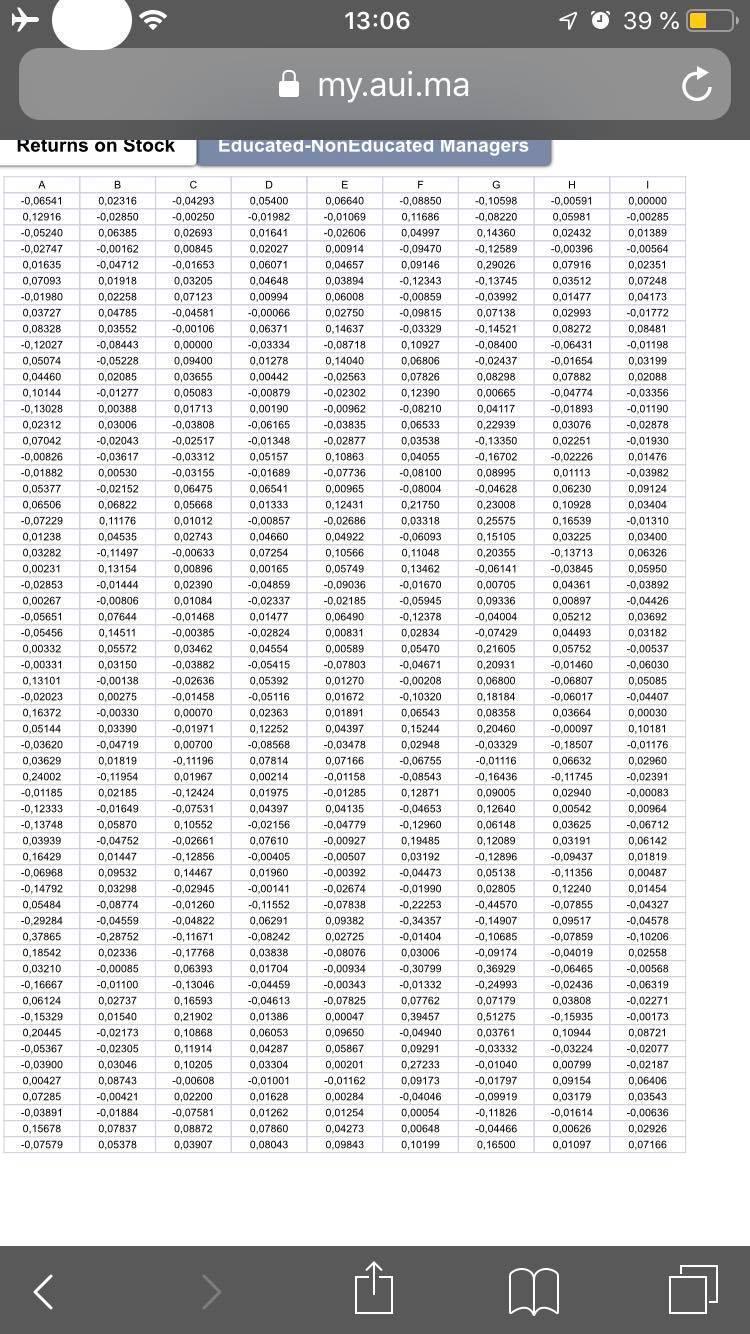 Related Book For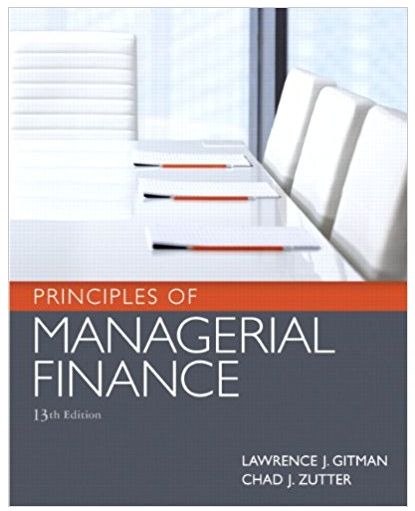 View Solution
Create a free account to access the answer
Cannot find your solution?
Post a FREE question now and get an answer within minutes.
*

Average response time.
Posted Date: May 19, 2021 08:45:59