Review the Financial Statements provided to each group on Blackboard (You may use laptops for this exercise). [ Focus on:
This problem has been solved!
Question:
Review the Financial Statements provided to each group on Blackboard (You may use laptops for this exercise). [ Focus on: a) Is the company Profitable b) Does the company have a lot of liabilities c) Are the cash flows positive d) How is the company using its cash e) Read Note 1 to learn about if the company has any parents or subsidiaries f) Read note 1 to understand the products the company sells g) Scan the other notes for any potential related party transactions h) scan the notes for any lawsuits.)
Determine the following risks "AR = IR * CR * DR": (Use the 2 tables to help you determine what risk settings are appropriate. Table 1 gives you RMM- plug that vale into table 2). (HINT 1: Determine RMM first, then AR and then back into DR). (HINT 2: Use the facts above to determine IR & CR, Use your auditor judgment to determine AR & DR, remember auditors don't want to take too much risk, but also don't want to be in efficient.)
i. Inherent Risk (Look at the notes and see if there is anything risky about this audit client, is it profitable, liabilities vs assets, any lawsuits, significant related party transactions. i.__________________________________.
ii. Control Risk (Look at the information above to gauge information about the company's controls are they working/not working. Think about what we discussed in Chap 3 & 5 about what is low control risk and what is high control risk.)
ii.__________________________________.
iii. RMM (Risk of Material Misstatement): _____________ (Should be IR x CR you determined above, see table below for guidance.) iv. Audit Risk (Should generally be only choices (a), (b), or (c)) (Should be based on if the client is a publicly traded company, how much risk you are willing to take, complexity of the client, size of the company, chance of lawsuits, size of our audit firm, etc.) iv.__________________________________ v. Detection Risk (Remember you are generally backing into this figure after you figure out inherent risk, control risk, and audit risk.) v.__________________________________
Based on Reading the Financial statements and the information above do you think there are any potential Significant or Fraud Risks? (If so what are they, remember not every audit has specific significant or Fraud risks.)
For your audit approach would you choose to test controls or primarily perform substantive procedures based on your risk assessment in Q1 above, what would your mix of control testing to substantive testing be? (Pick 1 letter & Explain why briefly.) (a)50% controls, and 50% substantive (b) 20% Controls and 80% substantive (c) 0% Controls and 100% substantive (d) Other, Explain your percentages.
Statement of Financial Conditions
December 31, 2018
Assets
Cash and cash equivalents $ 3,741,204
Inventories 100,042
Property Plan & Equipment
(Net of Accum. Apr. Of $700,000) 710,753
Accounts receivable
(Net of $124, 280 allowances for uncollectible Accts.) 1,118,517
Goodwill 90,000,000
Investments at cost 634,347
Other assets 175,094
Total assets $ 96,479,957
Liabilities and Member's Equity
Liabilities:
Notes Payable $ 139,690
Accounts payable and accrued expenses 180,579
Long Term Debt 2,000,000
Total liabilities 2,320,269
Stockholder's Equity:
Common Stock (no Par Stock, 1 million shares outstanding) 91,130,688
Retained Earnings 3,029,000
Total Stockholder's Equity 94,159,688
Total liabilities and Stockholder's equity $ 96,479,957
Related Book For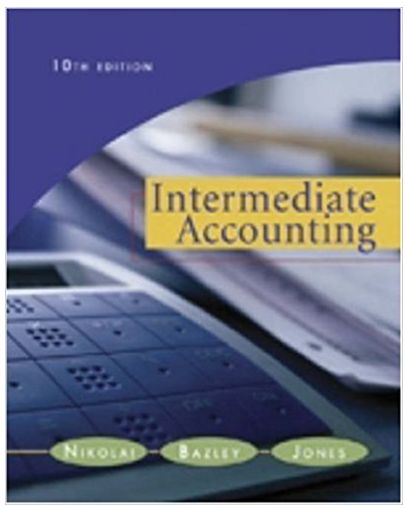 View Solution
Create a free account to access the answer
Cannot find your solution?
Post a FREE question now and get an answer within minutes.
*

Average response time.
Posted Date: September 28, 2020 07:02:23