For the circuit in Fig. 16.66, find: (a) I1 /Vs (b) I2 /Vx 0.5 F
Question:
For the circuit in Fig. 16.66, find:
(a) I1 /Vs
(b) I2 /Vx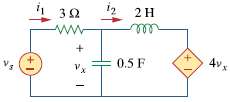 Transcribed Image Text:
0.5 F
This problem has been solved!
Step by Step Answer:
Answer rating: 42% (7 reviews)
Answered By
Ali Khawaja
my expertise are as follows: financial accounting : - journal entries - financial statements including balance sheet, profit & loss account, cash flow statement & statement of changes in equity -consolidated statement of financial position. -ratio analysis -depreciation methods -accounting concepts -understanding and application of all international financial reporting standards (ifrs) -international accounting standards (ias) -etc business analysis : -business strategy -strategic choices -business processes -e-business -e-marketing -project management -finance -hrm financial management : -project appraisal -capital budgeting -net present value (npv) -internal rate of return (irr) -net present value(npv) -payback period -strategic position -strategic choices -information technology -project management -finance -human resource management auditing: -internal audit -external audit -substantive procedures -analytic procedures -designing and assessment of internal controls -developing the flow charts & data flow diagrams -audit reports -engagement letter -materiality economics: -micro -macro -game theory -econometric -mathematical application in economics -empirical macroeconomics -international trade -international political economy -monetary theory and policy -public economics ,business law, and all regarding commerce
4.00+
1+ Reviews
10+ Question Solved
Related Book For
View Solution
Create a free account to access the answer
Cannot find your solution?
Post a FREE question now and get an answer within minutes.
*

Average response time.
Question Posted: April 29, 2016 15:13:33

Students also viewed these Electricity and Magnetism questions