CASE Study 1Jonesin for a New Market Being a small company has its advantagesexcept in the cutthroat world of soft
This problem has been solved!
Question:
CASE Study 1Jonesin' for a New Market
Being a small company has its advantages—except in the cutthroat world of soft drink manufacturing. Behemoths like Coke and Pepsi have consistently had their way when it comes to market share, buying up whatever else they cannot manage to create on their own.
Yet one small company, Jones Soda Company (JSC), has made a valiant effort to be that David among Goliaths—albeit with varying levels of success. Started by Canadian ski instructor Peter van Stolk, JSC sold its first bottles to thirsty consumers in January 1996. JSC, however, was not sold alongside Coke or Pepsi in convenience stores. Instead it was sold in skateboard shops and tattoo parlours, to consumers looking for a drink that matched their lifestyle. Its unique style was evidenced by its use of bottles that resembled classic beer bottles and by pricing higher than for regular soft drinks.
The lifestyle that JSC attracted was that of younger consumers, from tweens to high school graduates—in other words, those who revelled in the coolness of the unique and different and who enjoyed alternatives, be they in sports or other pursuits. Jones Soda appealed to this segment by flying under the radar, even asking its customers to help package the product. From the start, JSC asked consumers to send in pictures of themselves. Some of these ended up on Jones Soda labels. Van Stolk notes: "We allowed the labels to be discovered and that gave consumers a sense of ownership. It makes it more relevant to them and provides an emotional connection."
Without much money for marketing, Jones began an underground movement that utilized salespeople in RVs instead of ads on TV. For nine months of the year, a Jones Soda RV travelled around the United States visiting everywhere from small skate parks to large events like the Summer X Games. The idea was pretty simple: show off the brand to the young kids and offer free drinks and key chains. JSC also hired extreme pro athletes, from BMX riders to surfers, all of whom would be seen at events wearing the Jones Soda logo. JSC's connection to its target segment always seemed more personal than what other drink manufacturers were doing, and loyal customers appreciated it.
Jones Soda has also tried to stay avant-garde with product development. It is well known for bringing out uniquely flavoured drinks, usually in conjunction with holidays and other special events. For Halloween a few years ago, JSC introduced a few new flavours, including Candy Corn and Caramel Apple. This perhaps was not as much of a stretch as the holiday bundle of new flavours, which included Broccoli Casserole, Turkey and Gravy, and Pecan Pie. These "new" flavours, which more often than not were available for only a limited time, were used to generate curiosity among consumers.
JSC has also experimented with brand extensions. Some have succeeded (Jones Soda Hard Candy, MyJones bottle labelling, Jones Music); others not so much (lip balm, frozen popsicles). But Jones has always looked for different angles from which to compete.
As time passed, JSC realized that it needed to find other ways to get out there and meet consumers. Face-to-face was nice, but it did not sell enough to keep Jones Soda in competition with the big players. The bottom line was this: find a better distribution method to get more Jones Soda out to more of the market.
Jones Soda launched a more aggressive attack on the market, and its products were soon available from Starbucks, 7-Eleven, and Barnes and Noble. Large soft drink distributors, including National Beverage, now deliver Jones Soda by the truckload, not the RV.
One of the greatest coups in the growth strategy for Jones Soda was the Seattle Seahawks deal. The Seahawks, who play in the National Football League (NFL), signed an exclusive rights deal with JSC. This deal meant that only Jones Soda, not Coke or Pepsi, would be offered at the Seahawks home games played at Qwest Field. In honour of signing the deal, JSC came out with a sports pack that included flavours like "Dirt Soda" and "Natural Field Turf Soda." Jones was finally going big-time.
But going big did not necessarily mean big success. JSC has recently suffered some setbacks. A Starbucks distribution deal fell through, and JSC's initial attempt to distribute its product in cans to Wal- Mart was seen as a major failure. These failures led to quarterly losses, a struggling stock price, and the resignation of van Stolk as CEO in late 2007.
Other outside factors have led to challenges for JSC. A lower U.S. dollar has meant that exporting to other markets is becoming more expensive for the Seattle-based company. Luckily, JSC does have some bottlers in Canada, so it has been able to take advantage of the trade policies on both sides of the 49th Parallel.
Corn syrup, a common sweetener for soft drinks, has become more expensive due to high demand for corn. This has prompted many bottlers to switch to cane sugar. Jones Soda recently changed to sugar sweetening of its products; the hope is that sugar prices will remain stable. However, recent consumer trends toward healthy living are a cause for concern for companies like JSC that sell sugar-based products. Recent research showing a correlation between unhealthy diet choices among young consumers and serious health problems, including diabetes, has generated a consumer backlash against many consumer product companies.
Earlier in 2010, the Seattle Seahawks announced that they were dropping Jones Soda as a drink partner. As well, American Airlines announced an end to its deal with Jones Soda, which had provided soft drinks on the airline since 2008. The new partner for both the Seahawks and American Airlines: Coke.
Despite these setbacks, JSC is moving forward with plans to go mainstream. Distributors are in line, new product lines are being developed (Jones Natural, Jones Energy Drinks), and the company is feeling confident about its future. Some, though, wonder whether the snowboarding and alternative segment that Jones Soda first appealed to will be as excited about this new direction. With a new Wal- Mart deal making investors happy, does this constant attempt to achieve mainstream status mean a break with this alternative segment?
Assignment Objectives: Review the questions below and answer each question in detail.

1-Conduct a SWOT analysis of the organization and outline 3-5 strengths, 3-5 weakness, 3-5 opportunities and threats. Show your SWOT analysis and explain each strength, weakness, opportunity, and threat.
2-Outline the potential consumer of JSC and their buying behaviours.
3- To test out this move toward the mainstream, JSC is exploring potential markets. Given the Canadian roots of Jones Soda, it should not be surprising that JSC achieved early success distributing soft drinks in Western Canada. Now might be as good a time as any for the company to return to its roots. Given what you know about the Canadian market, it is now up to you to lay out the possibilities for Jones Soda making a big splash in Canada this fall. Use the following pages to lay out your strategy. Help prevent Jones Soda from fizzing out.
Related Book For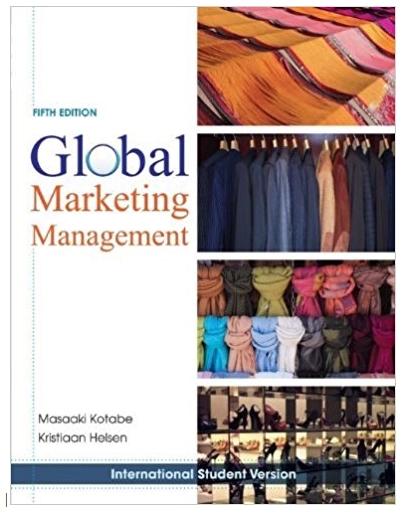 View Solution
Create a free account to access the answer
Cannot find your solution?
Post a FREE question now and get an answer within minutes.
*

Average response time.
Posted Date: November 22, 2022 14:20:47