Read the following scenario and evaluate Gordon's conduct of the observation assignment. (min 200words) Gordon has recently been assigned to
This problem has been solved!
Question:
Read the following scenario and evaluate Gordon's conduct of the observation assignment. (min 200words)
Gordon has recently been assigned to a project team that will be developing a new retail store management system for a chain of submarine sandwich shops. Gordon has several years of experience in programming but has not done much analysis in his career. He was a little nervous about the new work he would be doing but was confident that he could handle any assignment he was given.
One of Gordon's first assignments was to visit one of the submarine sandwich shops and prepare an observation report on how the store operates. Gordon planned to arrive at the store around noon, but he chose a store in an area of town he was unfamiliar with, and due to traffic delays and difficulty in finding the store, he did not arrive until 1:30 PM. The store manager was not expecting him and refused to let a stranger behind the counter until Gordon had him contact the project sponsor (the director of store management) back at company headquarters to verify who he was and what his purpose was.
After finally securing permission to observe, Gordon stationed himself prominently in the work area behind the counter so that he could see everything. The staff had to maneuver around him as they went about their tasks; however, there were only occasional minor collisions. Gordon noticed that the store staff seemed to be going about their work very slowly and deliberately, but he supposed that was because the store was not very busy. At first, Gordon questioned each worker about what he or she was doing, but the store manager eventually asked him not to interrupt their work so much—he was interfering with their service to the customers.
By 3:30, Gordon was a little bored. He decided to leave, figuring that he could get back to the office and prepare his report before 5:00 PM that day. He was sure that his team leader would be pleased with his quick completion of his assignment. As he drove, he reflected, "There really won't be much to say in this report. All they do is take the order, make the sandwich, collect the payment, and hand over the order. It's really simple!" Gordon's confidence in his analytical skills soared as he anticipated his team leader's praise.
Back at the store, the store manager shook his head, commenting to his staff, "He comes here at the slowest time of day on the slowest day of the week. He never even looked at all the work I was doing in the back room while he was here—summarizing yesterday's sales, checking inventory on hand, making up resupply orders for the weekend … plus he never even considered our store opening and closing procedures. I hate to think that the new store management system is going to be built by someone like that. I'd better contact Chuck (the director of store management) and let him know what went on here today."
2. Please see the following link about POW mining. Do you agree with the idea that bitcoin miners should be able to repurpose these old facilities? Please comment on POW versus other consensus mechanisms given the huge power requirements of POW (please reference any external sources). (min 200words)
https://www.wsj.com/articles/bitcoin-miners-are-giving-new-life-to-old-fossil-fuel-power-plants-11621594803?st=j0fwwgm0gc9ywe0&reflink=desktopwebshare_permalink
3. The following set of questions was developed to administer to the customers of a food catering business. Put yourself in the position of a customer who has ordered food from this catering business at least one time in the past. You have just received this survey in an e‐mail from the catering company. The e‐mail contains a link that takes you to a Web‐based survey process (such as Google Forms or SurveyMonkey).
As you read each question, evaluate it carefully. Is it easy to answer? Do understand how to answer? Is there any confusion in your mind about what response is expected? Do you think your answer will be meaningful and useful to the system development team?
What is your company's name?
On a scale from 1 to 10, how easy do you find the ordering process?
0‐‐‐‐‐‐‐‐‐‐‐‐‐‐‐‐‐‐‐‐‐‐‐‐‐‐‐‐‐‐‐‐‐‐‐‐‐‐‐‐‐‐‐‐‐‐‐‐‐‐‐‐‐‐‐‐‐‐‐‐‐‐‐‐‐‐‐10
How long does it take to place a catering request?
In your opinion, what is the biggest problem with the current system of placing a catering order?
How do you feel the process could be simplified?
What features would you like to see in the new system?
Do you value convenience and speed or accuracy and a detailed description when placing an order?
How often do you use our catering services?
On a scale from 1 to 10, how often are you satisfied with the delivered products?
0‐‐‐‐‐‐‐‐‐‐‐‐‐‐‐‐‐‐‐‐‐‐‐‐‐‐‐‐‐‐‐‐‐‐‐‐‐‐‐‐‐‐‐‐‐‐‐‐‐‐‐‐‐‐‐‐‐‐‐‐‐‐‐‐‐‐‐10
On a scale from 1 to 10, how likely are you to choose our catering again?
0‐‐‐‐‐‐‐‐‐‐‐‐‐‐‐‐‐‐‐‐‐‐‐‐‐‐‐‐‐‐‐‐‐‐‐‐‐‐‐‐‐‐‐‐‐‐‐‐‐‐‐‐‐‐‐‐‐‐‐‐‐‐‐‐‐‐‐10
4. Kansas City Community College recently authorized a system development project focused on the college's Career Center. A job posting capability is in the existing system, but there is no way for students to upload resumes or schedule interviews with recruiters. The Career Center director wants to add several new features to make the system more useful and valuable to both students and recruiters. The following Business Needs were drawn from the System Request document.
Business Needs:
Expansion and enhancements are needed to improve the existing system and correct several deficiencies. Most critically:
Students are unable to upload resumes
Recruiters cannot easily search student resumes for candidates
Recruiters cannot post-interview schedules for on‐campus recruiting
Students are unable to schedule recruiting interviews
1)List the features/capabilities that will correct problems and/or exploit opportunities (the Business Requirements).
2)List the things the users need/want to do (the User Requirements).
3)List the things the software should do/include, both processes and information (the Functional Requirements).
Thoroughly List all things and explain why for each.
Related Book For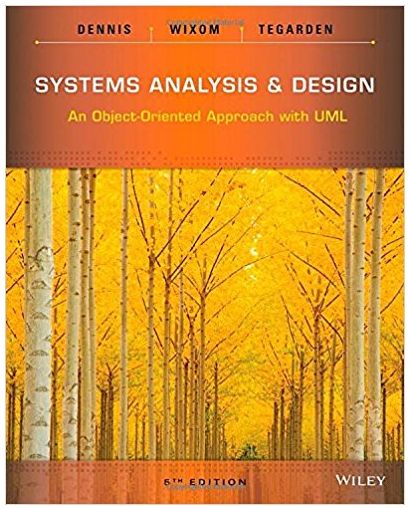 View Solution
Create a free account to access the answer
Cannot find your solution?
Post a FREE question now and get an answer within minutes.
*

Average response time.
Posted Date: March 17, 2023 09:16:33