Starbucks, as everybody knows, is the leading coffee retailer today. Because of the continuous profit growth of the company,...
This problem has been solved!
Question: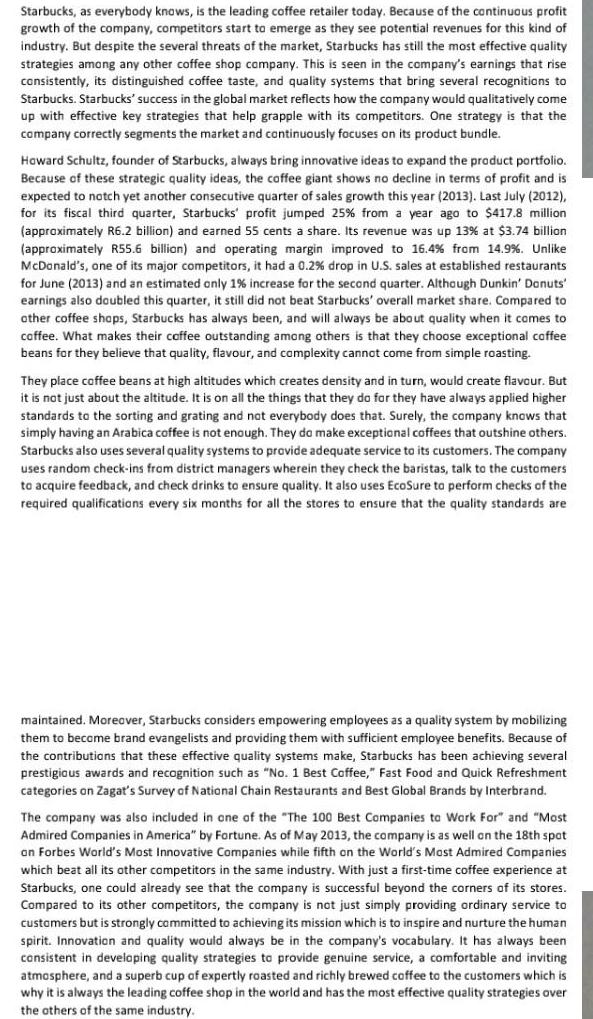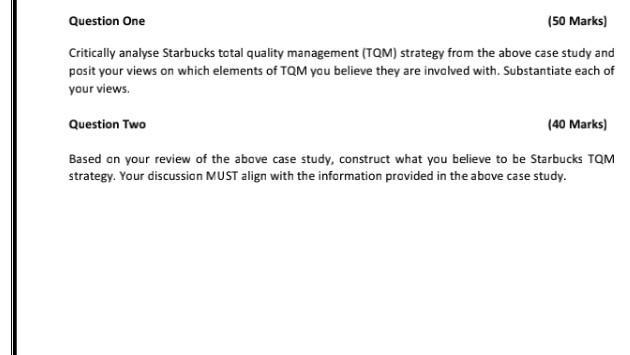 Transcribed Image Text:

Starbucks, as everybody knows, is the leading coffee retailer today. Because of the continuous profit growth of the company, competitors start to emerge as they see potential revenues for this kind of industry. But despite the several threats of the market, Starbucks has still the most effective quality strategies among any other coffee shop company. This is seen in the company's earnings that rise consistently, its distinguished coffee taste, and quality systems that bring several recognitions to Starbucks. Starbucks' success in the global market reflects how the company would qualitatively come up with effective key strategies that help grapple with its competitors. One strategy is that the company correctly segments the market and continuously focuses on its product bundle. Howard Schultz, founder of Starbucks, always bring innovative ideas to expand the product portfolio. Because of these strategic quality ideas, the coffee giant shows no decline in terms of profit and is expected to notch yet another consecutive quarter of sales growth this year (2013). Last July (2012), for its fiscal third quarter, Starbucks' profit jumped 25% from a year ago to $417.8 million (approximately R6.2 billion) and earned 55 cents a share. Its revenue was up 13 % at $3.74 billion (approximately R55.6 billion) and operating margin improved to 16.4% from 14.9%. Unlike McDonald's, one of its major competitors, it had a 0.2% drop in U.S. sales at established restaurants for June (2013) and an estimated only 1% increase for the second quarter. Although Dunkin' Donuts' earnings also doubled this quarter, it still did not beat Starbucks' overall market share. Compared to other coffee shops, Starbucks has always been, and will always be about quality when it comes to coffee. What makes their coffee outstanding among others is that they choose exceptional coffee beans for they believe that quality, flavour, and complexity cannot come from simple roasting. They place coffee beans at high altitudes which creates density and in turn, would create flavour. But it is not just about the altitude. It is on all the things that they do for they have always applied higher standards to the sorting and grating and not everybody does that. Surely, the company knows that simply having an Arabica coffee is not enough. They do make exceptional coffees that outshine others. Starbucks also uses several quality systems to provide adequate service to its customers. The company uses random check-ins from district managers wherein they check the baristas, talk to the customers to acquire feedback, and check drinks to ensure quality. t also uses EcoSure to perform checks of the required qualifications every six months for all the stores to ensure that the quality standards are maintained. Moreover, Starbucks considers empowering employees as a quality system by mobilizing them to become brand evangelists and providing them with sufficient employee benefits. Because of the contributions that these effective quality systems make, Starbucks has been achieving several prestigious awards and recognition such as "No. 1 Best Coffee," Fast Food and Quick Refreshment categories on Zagat's Survey of National Chain Restaurants and Best Global Brands by Interbrand. The company was also included in one of the "The 100 Best Companies to Work For" and "Most Admired Companies in America" by Fortune. As of May 2013, the company is as well on the 18th spat an Forbes World's Most Innovative Companies while fifth on the World's Most Admired Companies which beat all its other competitors in the same industry. With just a first-time coffee experience at Starbucks, one could already see that the company is successful beyond the corners of its stores. Compared to its other competitors, the company is not just simply providing ordinary service to customers but is strongly committed to achieving its mission which is to inspire and nurture the human spirit. Innovation and quality would always be in the company's vocabulary. It has always been consistent in developing quality strategies to provide genuine service, a comfortable and inviting atmosphere, and a superb cup of expertly roasted and richly brewed coffee to the customers which is why it is always the leading coffee shop in the world and has the most effective quality strategies over the others of the same industry.
Expert Answer:
Question One Starbucks total quality management TQM strategy involves various elements that contribute to the company s success in the coffee industry

View the full answer
Related Book For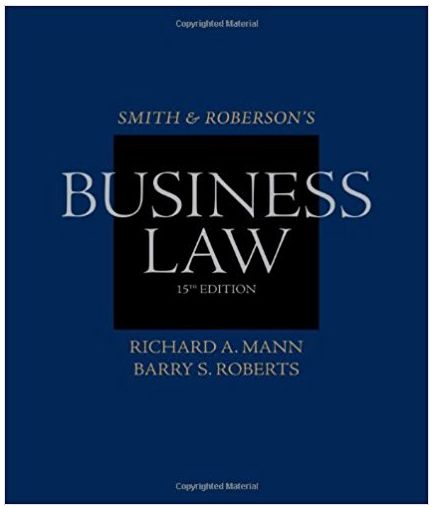 View Solution
Create a free account to access the answer
Cannot find your solution?
Post a FREE question now and get an answer within minutes.
*

Average response time.
Posted Date: June 05, 2023 04:03:44

Students also viewed these general management questions