The company was incorporated in 2004, beginning with one retail facility in Victoria. Inner Harbour has expanded rapidly to...
This problem has been solved!
Question: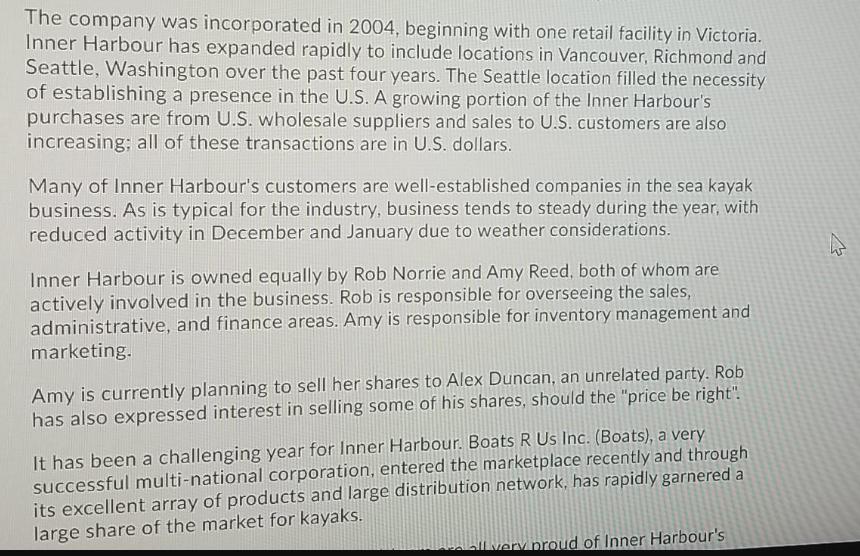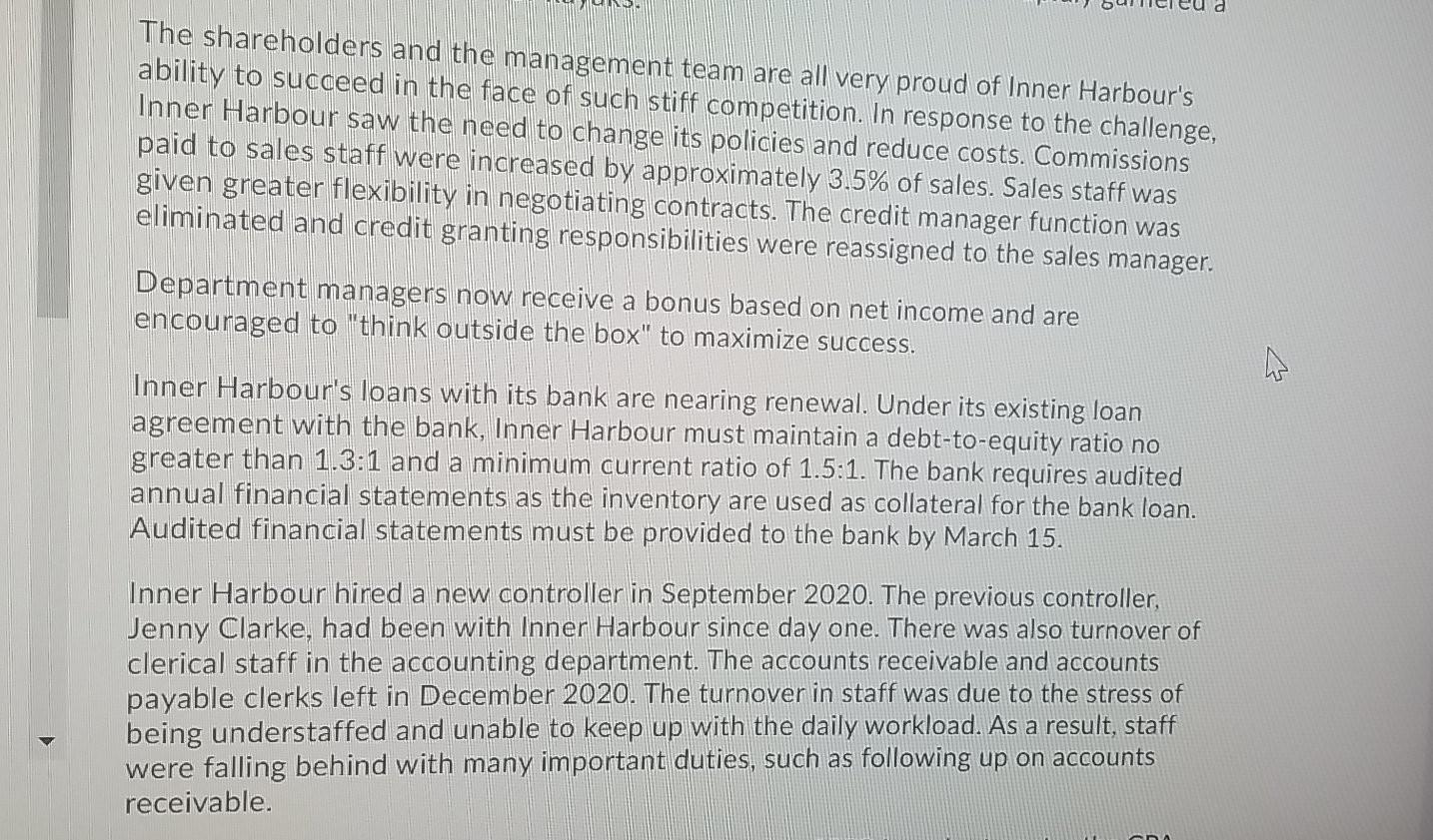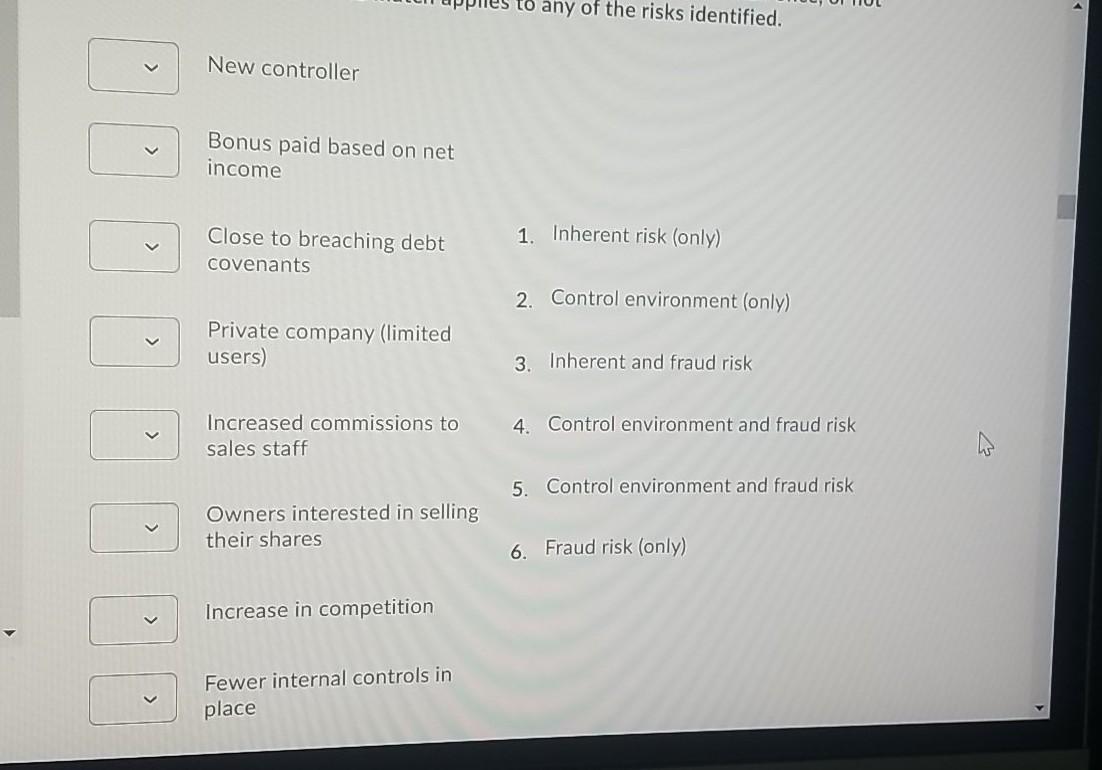 Transcribed Image Text:

The company was incorporated in 2004, beginning with one retail facility in Victoria. Inner Harbour has expanded rapidly to include locations in Vancouver, Richmond and Seattle, Washington over the past four years. The Seattle location filled the necessity of establishing a presence in the U.S. A growing portion of the Inner Harbour's purchases are from U.S. wholesale suppliers and sales to U.S. customers are also increasing; all of these transactions are in U.S. dollars. Many of Inner Harbour's customers are well-established companies in the sea kayak business. As is typical for the industry, business tends to steady during the year, with reduced activity in December and January due to weather considerations. Inner Harbour is owned equally by Rob Norrie and Amy Reed, both of whom are actively involved in the business. Rob is responsible for overseeing the sales, administrative, and finance areas. Amy is responsible for inventory management and marketing. Amy is currently planning to sell her shares to Alex Duncan, an unrelated party. Rob has also expressed interest in selling some of his shares, should the "price be right". It has been a challenging year for Inner Harbour. Boats R Us Inc. (Boats), a very successful multi-national corporation, entered the marketplace recently and through its excellent array of products and large distribution network, has rapidly garnered a large share of the market for kayaks. all very proud of Inner Harbour's The shareholders and the management team are all very proud of Inner Harbour's ability to succeed in the face of such stiff competition. In response to the challenge, Inner Harbour saw the need to change its policies and reduce costs. Commissions paid to sales staff were increased by approximately 3.5% of sales. Sales staff was given greater flexibility in negotiating contracts. The credit manager function was eliminated and credit granting responsibilities were reassigned to the sales manager. Department managers now receive a bonus based on net income and are encouraged to "think outside the box" to maximize success. Inner Harbour's loans with its bank are nearing renewal. Under its existing loan agreement with the bank, Inner Harbour must maintain a debt-to-equity ratio no greater than 1.3:1 and a minimum current ratio of 1.5:1. The bank requires audited annual financial statements as the inventory are used as collateral for the bank loan. Audited financial statements must be provided to the bank by March 15. Inner Harbour hired a new controller in September 2020. The previous controller, Jenny Clarke, had been with Inner Harbour since day one. There was also turnover of clerical staff in the accounting department. The accounts receivable and accounts payable clerks left in December 2020. The turnover in staff was due to the stress of being understaffed and unable to keep up with the daily workload. As a result, staff were falling behind with many important duties, such as following up on accounts receivable. The previous internal auditor resigned in September 2020 in order to enter the CPA program. His role has been taken over by the assistant controller, who now spends approximately 25% of his time on internal audit duties. It is now February 2021. Match each of the audit risk factors listed below, to the type of audit risk it represents (inherent, control, fraud). Some risk factors may represent multiple risks, such as inherent and fraud - in this situation, match the risk to the choice that includes both risks. You may use a match more than once, or not at all if you don't believe the match applies to any of the risks identified. New controller Bonus paid based on net income Close to breaching debt covenants Private company (limited users) Increased commissions to sales staff Owners interested in selling their shares Increase in competition Fewer internal controls in place to any of the risks identified. 1. Inherent risk (only) 2. Control environment (only) 3. Inherent and fraud risk 4. Control environment and fraud risk 5. Control environment and fraud risk 6. Fraud risk (only)
Expert Answer:
Here s the matching of audit risk factors to the types of audit risk they represent New controller Inherent risk only This risk factor is related to t

View the full answer
Related Book For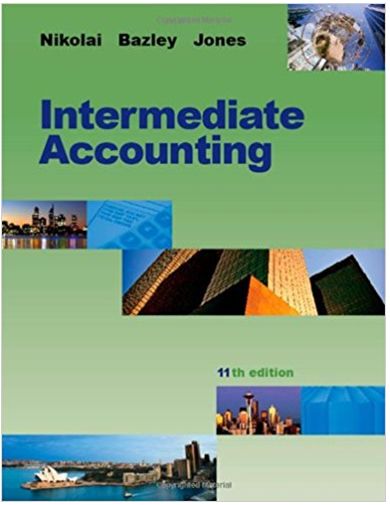 View Solution
Create a free account to access the answer
Cannot find your solution?
Post a FREE question now and get an answer within minutes.
*

Average response time.
Posted Date: August 24, 2021 17:51:57

Related Video
Inventory turnover is a key metric that helps businesses evaluate the efficiency of their operations. A high turnover ratio is generally considered positive, indicating that the company is effectively selling its inventory and making efficient use of its resources. On the other hand, a low turnover ratio may indicate issues such as overstocking or slow sales and may require further examination to identify and address the underlying causes. Businesses use this ratio to make decisions about inventory levels, production schedules, and pricing strategies. It also helps businesses to identify areas where they may need to make improvements, such as reducing lead times for production or optimizing sales and marketing efforts. Additionally, inventory turnover is used by investors and analysts as a key performance indicator to evaluate the financial health and growth potential of a company.
Students also viewed these accounting questions