The countries of the EU have a different cultural viewpoint, than that of the U.S., with respect to work-life programs.
This problem has been solved!
Question:
The countries of the EU have a different cultural viewpoint, than that of the U.S., with respect to work-life programs. Often, programs came about as a result of government legislation backed by public mandate. This demonstrates that European programs are based primarily on social responsibility rather than competitive advantage. In contrast to the U.S., there are different approaches to work-life balance in Europe. These approaches depend on cultural characteristics of the various member countries and the level of development of the economies. However, the EU is trying to establish certain guidelines for all countries that aim to reduce discrepancies between the work-life initiatives of the countries. According to Cary Cooper, professor of organizational psychology and health at the University of Manchester Institute of Science and Technology, the "Americanisation of working practices in Europe, including an increase in outsourcing, hours at work, delayering and freelancing, is increasing stress levels." 
This Americanization had led the EU to investigate guidelines regarding work hours, holidays, and parental/paternity leave. Telecommuting and child care are also topics of interest to the EU in relation to overall work-life health of its member countries. The European Employment Strategy8 emphasizes that member states should design, implement, and promote policies which favor the family, including the establishment of affordable, accessible and high quality child-care services.
 In March of 2000, the French Presidency administered a set of questionnaires to the EU countries to gather data about worklife balance indicators so that overall EU guidelines could be recommended. While the EU may want to establish uniform standards for all its member countries, because the statistical data varies greatly from country to country, individual goals are more feasible at this time. Some of the more prevalent work-life programs in the EU are discussed below: Work Hours In 1995, the Council of the EU recommended a maximum 48-hour work week in order to protect the safety and health of workers. 
However, hours that employees actually work among the EU countries still varies. A report published in 2000 by the Trade Unions Congress found British employees were working an average of 43.6 hours a week, compared with 39.6 in France, 38.5 in Italy and 40.1 in Germany.10 While France's average number of hours worked per week is 38.5, France mandates time and a half or bonuses paid for working more than 35 hours per week. According to a study by the European Community Household Panel, 12 percent of workers believe they have a low number of work hours, and 44.8 percent believe they have a high number of work hours. Paternity Leave Paternity Leave is a relatively new trend some EU countries but not in others. In Denmark where paternal rights have existed for more than 20 years, regulations have been refined to give fathers more rights in taking care of their children. In particular, under new rules implemented in March 2000, parental leave is granted to fathers for the first time and leave entitlement is extended to a total of 10 months leave at 30 percent of regular salary until the child's third birthday. Any period of leave cannot exceed six consecutive months. 
As of December 2001, 40 percent of Nordic fathers actually took advantage of these rights, encouraged by tax penalties if they did not and generous financing at about 80 percent of average salaries if they did. 11 In contract the government in the UK recognized paternal rights at the end of the last decade. For too long, family friendly policies were simply equated with policies for working mothers. The EU Directive on Parental Leave has since put the UK on par with the rest of Europe, and two weeks' paid paternity leave is promised starting 2003. Some companies have taken initiative to implement paternal leave prior to the EU's directive. Four out of 10 UK employers chose to make provisions prior to the Directive. The next challenge to the scope of family leave comes from across the Atlantic. In the U.S., family leave is not limited to care for young children but includes everyone in the family from the spouse to elderly relatives through the Family and Medical Leave Act.12 Vacation In addition to a recommended maximum number of work hours, the EU also in 1993 formally recommended that employees receive four weeks mandatory vacation. Again, the length of holiday varies among EU countries. Flexible holiday policies are a trend that some EU nations are embracing. Under current Dutch law, employees who do not take their full holiday entitlement cannot receive cash in lieu, other than as part of a termination package. 
New proposals would allow employees to have surplus holiday paid off, provided that they actually take at least 20 days holiday leave. Historically, companies would just close their operations and have all employees take holiday leave at the same time. With the increase in globalization, companies are interested in being open for business all the time which creates opportunities for employees to take partial holiday leave and work the remainder of the holiday for the extra income. However, holiday time is still valued by European workers. Facts 2000 survey claimed that employees would rate having more than 30 days holiday as a more attractive benefit than having a company car or a pension.13 A quick scan of vacation time in the countries where U.S. firms do most of their European business reveals that four weeks is below the average vacation time most Europeans already enjoy. For example, in France 25 days is the minimum required by law, though 25 to 27 days is standard. Germany requires employers to give 20 days, though 30 is standard practice. (Some Germans enjoy as much as 15 weeks of paid leave each year). The Netherlands likewise requires 20 days but most employers offer between 25 and 27 days. Only the United Kingdom had no mandated vacation time prior to the spring of 1998. At that time, Prime Minister Tony Blair ushered in the European Working Time Directive, which set forth mandatory annual leave and brought the country into compliance with EU regulations. While the new legislation marks a shift from hands-off to hands-on governmental policy, it should not affect operations at most companies in the U.K. The majority of employers already offered four to five weeks vacation time. Childcare Developing childcare provision systems in the EU appears to have been an emerging priority for the past 15 years. 
This concern is related to the need to promote equal opportunities for men and women in the labor pool. In a published report in 1988, the European Commission Equal Opportunities Unit recognized the need for consistent information about childcare as a major component of the work-life equilibrium. As a basis for this, the EC Childcare Network undertook a study of routine data already existing on the subject in the member states followed by further reviews of the subject.14 Despite discrepancies in statistics and information about childcare available across EU member countries, the EU does its best to gather information and recommend guidelines to benefit both working parents and children. Childcare subsidies are available throughout the EU, but the cost of childcare remains a controversial issue. In the UK, parents face the highest European childcare costs. The Daycare Trust says, on average, parents in Europe contribute just 25 percent of the full cost of a nursery place, compared the 75 percent paid by parents in the UK. Despite the large EU government subsidies and tax credits (outside the UK), the Daycare Trust says that the high charges are still preventing some parents from returning to work.15 Telecommuting Research from a UK Labor Force Survey, conducted by industry analyst Datamonitor shows that 1.7 million people, about six percent of Britons, now telecommute at least one day a week. The figure falls to 1.1 million or 4.2 percent if you exclude those who do it only occasionally. 
The number of people working from home across Europe could jump by more than 50 percent between now and 2005. The driving force is a desire among employees for a better balance between work and life and, among employers, to hang on to their best people. The 14 Eurostat Working Papers - Feasibility Study on the availability of comparable child care statistics in the European Union added a third reason: even if they can get to work without delay and disruption, many people would prefer not to work in a high-rise office tower. Other EU countries expect telecommuting to become more prevalent as well. A survey conducted in late 1998 shows the percentage of European executives that expect telecommuting to become widespread in use by 2003. Asked about work practices they expect to be prevalent in their own companies within five years, 53 percent of UK executives expected telecommuting to be in widespread use.
1-Summary of the articles.
2-What makes these articles strong? (ex: based on research-good references...etc.)
3-What makes these articles weak?
4-Conclusion: your opinion.
Related Book For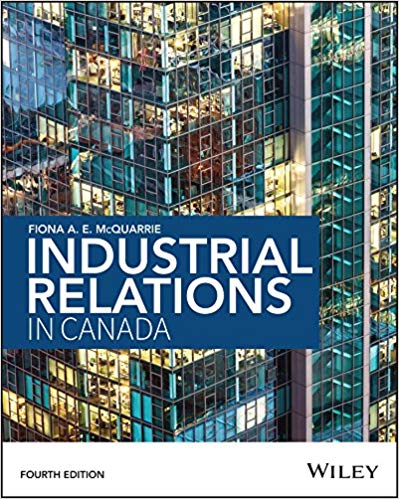 View Solution
Create a free account to access the answer
Cannot find your solution?
Post a FREE question now and get an answer within minutes.
*

Average response time.
Question Details
Chapter # 14
Section:
Exercise Questions
Posted Date: September 13, 2023 04:00:34