Yummyfoods Limited is a listed entity which operates a chain of 95 restaurants throughout South Africa. A chain restaurant...
This problem has been solved!
Question: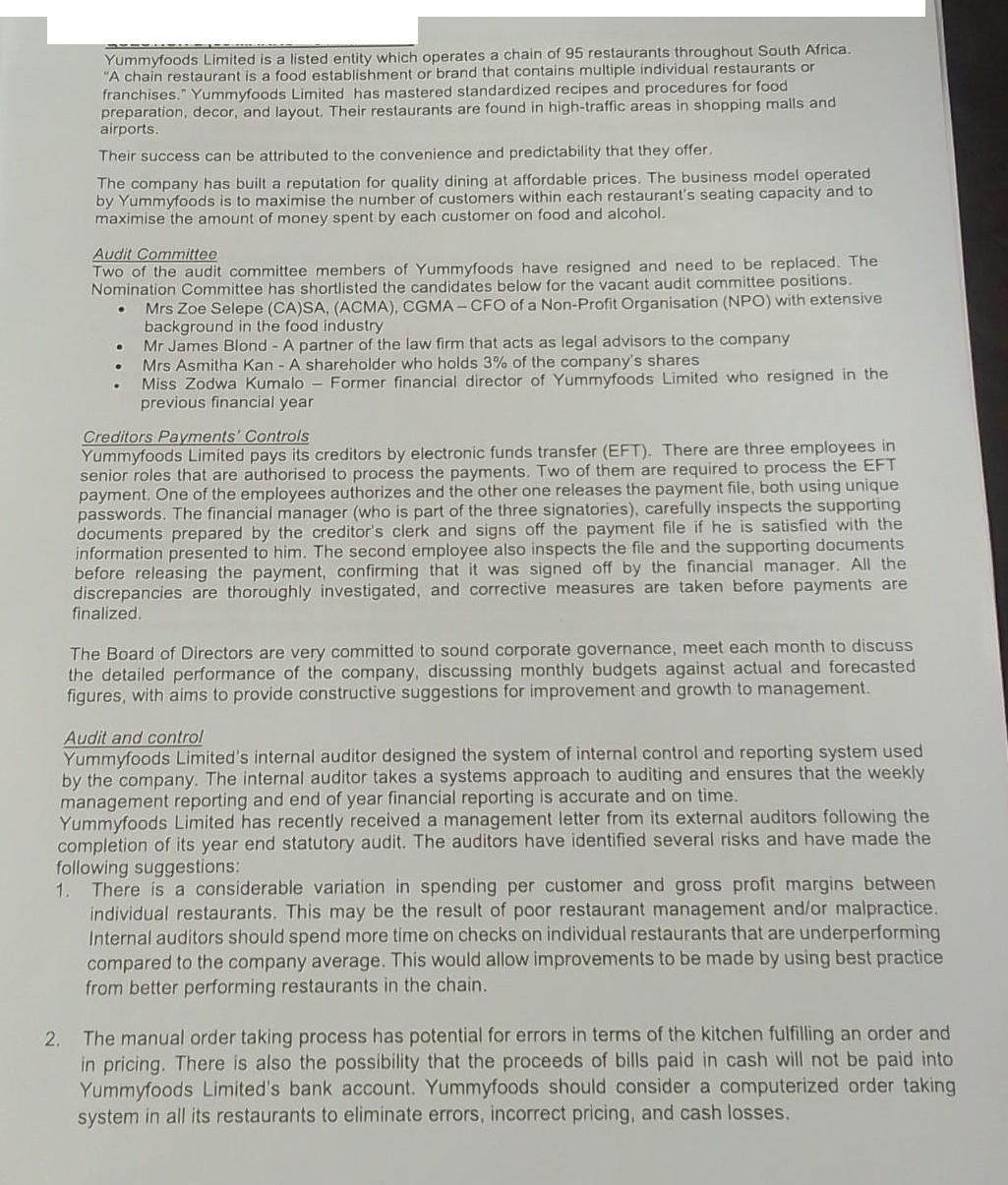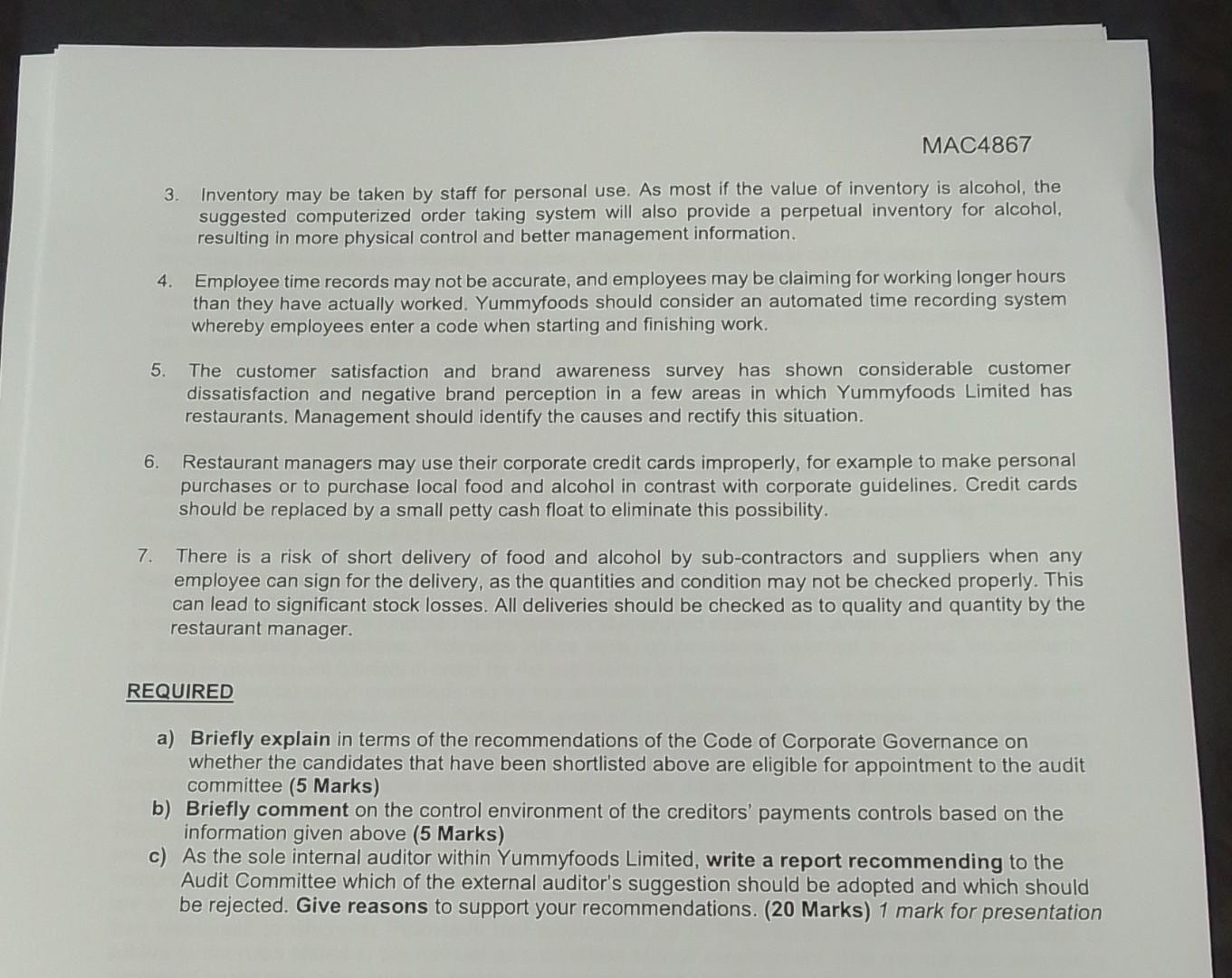 Transcribed Image Text:

Yummyfoods Limited is a listed entity which operates a chain of 95 restaurants throughout South Africa. "A chain restaurant is a food establishment or brand that contains multiple individual restaurants or franchises." Yummyfoods Limited has mastered standardized recipes and procedures for food preparation, decor, and layout. Their restaurants are found in high-traffic areas in shopping malls and airports. Their success can be attributed to the convenience and predictability that they offer. The company has built a reputation for quality dining at affordable prices. The business model operated by Yummyfoods is to maximise the number of customers within each restaurant's seating capacity and to maximise the amount of money spent by each customer on food and alcohol. Audit Committee Two of the audit committee members of Yummyfoods have resigned and need to be replaced. The Nomination Committee has shortlisted the candidates below for the vacant audit committee positions. ● Mrs Zoe Selepe (CA)SA, (ACMA), CGMA-CFO of a Non-Profit Organisation (NPO) with extensive background in the food industry Mr James Blond - A partner of the law firm that acts as legal advisors to the company Mrs Asmitha Kan - A shareholder who holds 3% of the company's shares Miss Zodwa Kumalo - Former financial director of Yummyfoods Limited who resigned in the previous financial year Creditors Payments' Controls Yummyfoods Limited pays creditors by electronic funds transfer (EFT). There are three employees in senior roles that are authorised to process the payments. Two of them are required to process the EFT payment. One of the employees authorizes and the other one releases the payment file, both using unique passwords. The financial manager (who is part of the three signatories), carefully inspects the supporting documents prepared by the creditor's clerk and signs off the payment file if he is satisfied with the information presented to him. The second employee also inspects the file and the supporting documents before releasing the payment, confirming that it was signed off by the financial manager. All the discrepancies are thoroughly investigated, and corrective measures are taken before payments are finalized. The Board of Directors are very committed to sound corporate governance, meet each month to discuss the detailed performance of the company, discussing monthly budgets against actual and forecasted figures, with aims to provide constructive suggestions for improvement and growth to management. Audit and control Yummyfoods Limited's internal auditor designed the system of internal control and reporting system used by the company. The internal auditor takes a systems approach to auditing and ensures that the weekly management reporting and end of year financial reporting is accurate and on time. Yummyfoods Limited has recently received a management letter from its external auditors following the completion of its year end statutory audit. The auditors have identified several risks and have made the following suggestions: 1. There is a considerable variation in spending per customer and gross profit margins between individual restaurants. This may be the result of poor restaurant management and/or malpractice. Internal auditors should spend more time on checks on individual restaurants that are underperforming compared to the company average. This would allow improvements to be made by using best practice from better performing restaurants in the chain. 2. The manual order taking process has potential for errors in terms of the kitchen fulfilling an order and in pricing. There is also the possibility that the proceeds of bills paid in cash will not be paid into Yummyfoods Limited's bank account. Yummyfoods should consider a computerized order taking system in all its restaurants to eliminate errors, incorrect pricing, and cash losses. 3. 4. 5. 7. MAC4867 Inventory may be taken by staff for personal use. As most if the value of inventory is alcohol, the suggested computerized order taking system will also provide a perpetual inventory for alcohol, resulting in more physical control and better management information. Employee time records may not be accurate, and employees may be claiming for working longer hours than they have actually worked. Yummyfoods should consider an automated time recording system whereby employees enter a code when starting and finishing work. The customer satisfaction and brand awareness survey has shown considerable customer dissatisfaction and negative brand perception in a few areas in which Yummyfoods Limited has restaurants. Management should identify the causes and rectify this situation. 6. Restaurant managers may use their corporate credit cards improperly, for example to make personal purchases or to purchase local food and alcohol in contrast with corporate guidelines. Credit cards should be replaced by a small petty cash float to eliminate this possibility. There is a risk of short delivery of food and alcohol by sub-contractors and suppliers when any employee can sign for the delivery, as the quantities and condition may not be checked properly. This can lead to significant stock losses. All deliveries should be checked as to quality and quantity by the restaurant manager. REQUIRED a) Briefly explain in terms of the recommendations of the Code of Corporate Governance on whether the candidates that have been shortlisted above are eligible for appointment to the audit committee (5 Marks) b) Briefly comment on the control environment of the creditors' payments controls based on the information given above (5 Marks) c) As the sole internal auditor within Yummyfoods Limited, write a report recommending to the Audit Committee which of the external auditor's suggestion should be adopted and which should be rejected. Give reasons to support your recommendations. (20 Marks) 1 mark for presentation
Expert Answer:
a Eligibility of Candidates for Audit Committee Appointment The Code of Corporate Governance typically emphasizes independence expertise and integrity

View the full answer
Related Book For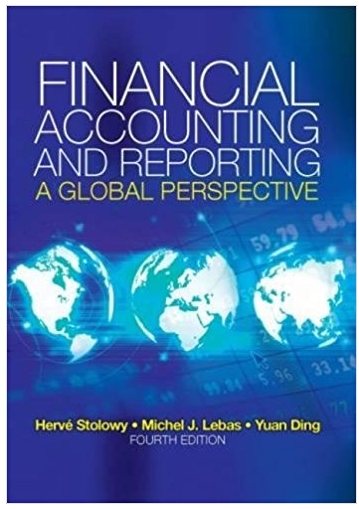 View Solution
Create a free account to access the answer
Cannot find your solution?
Post a FREE question now and get an answer within minutes.
*

Average response time.
Posted Date: August 25, 2023 05:17:50

Students also viewed these accounting questions