Formulate and solve the Markowitz portfolio optimization model to minimize portfolio variance subject to a required expected return of 10
Question:
Formulate and solve the Markowitz
portfolio
optimization model to minimize
portfolio
variance subject to a required
expected return
of 10 percent that was defined in equations (8.10) through (8.19) using the data from Problem 13. In this case, nine scenarios correspond to the yearly returns from Years 1 through 9. Treat each scenario as being equally likely and use the scenario returns that were calculated in Problem 13.
Data from Problem 13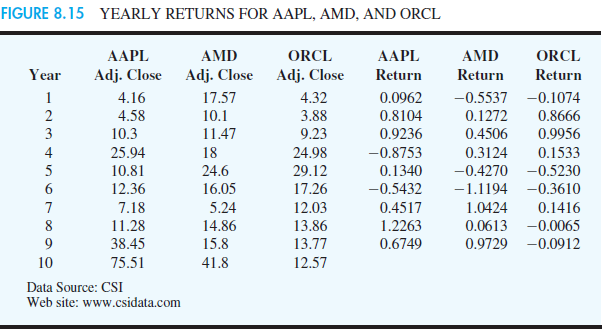 Expected Return
The expected return is the profit or loss an investor anticipates on an investment that has known or anticipated rates of return (RoR). It is calculated by multiplying potential outcomes by the chances of them occurring and then totaling these...
Portfolio
A portfolio is a grouping of financial assets such as stocks, bonds, commodities, currencies and cash equivalents, as well as their fund counterparts, including mutual, exchange-traded and closed funds. A portfolio can also consist of non-publicly...
This problem has been solved!
Related Book For
View Solution
Create a free account to access the answer
Cannot find your solution?
Post a FREE question now and get an answer within minutes.
*

Average response time.
Question Posted: November 04, 2016 10:39:58