See Table 2.5 showing financial statement data and stock price data for Mydeco Corp. a. In what year was Mydecos
Question:
See Table 2.5 showing financial statement data and stock price data for Mydeco Corp.
a. In what year was Mydeco€™s net income the lowest?
b. In what year did Mydeco need to reduce its cash reserves?
c. Why did Mydeco need to reduce its cash reserves in a year when net income was reasonably high?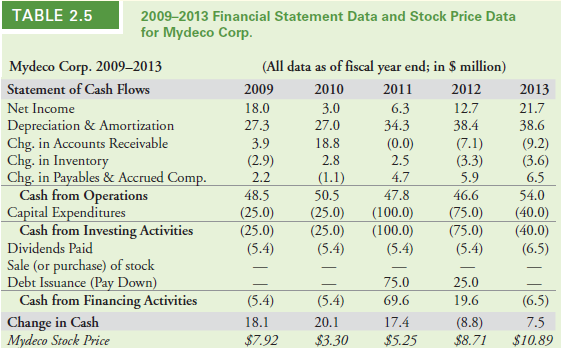 Table continue
Transcribed Image Text:
TABLE 2.5 2009-2013 Financial Statement Data and Stock Price Data for Mydeco Corp Mydeco Corp. 2009-2013 Statement of Cash Flows Net Income Depreciation & Amortization Chg. in Accounts Receivable Chg. in Inventory Chg. in Payables & Accrued Com (All data as of fiscal year end; in S million) 2009 18.0 27.3 2010 3.0 27.0 18.8 2.8 2011 2012 12.7 38.4 2013 21.7 38.6 6.3 34.3 (0.0) 2.5 4.7 47.8 (25.0) (25.0 (100.0) (75.0) 40.0) (25.0) (25.0 (100.0 (75.0) 40.0) (5.4) (2.9) 2.2 48.5 (3.3) 5.9 46.6 3.6) 6.5 54.0 Cash from Operations Capital Expenditures 50.5 Dividends Paid Sale (or purchase) of stock (5.4) (5.4) (5.4) 6.5) Cash from Financing Activities Change in Cash Mydeco Stock Price 75.0 69.6 17.4 $7.92 $3.30 $5.25 $8.71 $10.89 25.0 19.6 (8.8) (5.4) 18.1 (5.4) 20.1 (6.5) 7.5
This problem has been solved!
Step by Step Answer:
Answer rating: 58% (12 reviews)
a In 2010 net income was 3 million b 2012 cash was reduced from 86 3 to 7…View the full answer
Answered By
Somshukla Chakraborty
I have a teaching experience of more than 4 years by now in diverse subjects like History,Geography,Political Science,Sociology,Business Enterprise,Economics,Environmental Management etc.I teach students from classes 9-12 and undergraduate students.I boards I handle are IB,IGCSE, state boards,ICSE, CBSE.I am passionate about teaching.Full satisfaction of the students is my main goal. I have completed my graduation and master's in history from Jadavpur University Kolkata,India in 2012 and I have completed my B.Ed from the same University in 2013. I have taught in a reputed school of Kolkata (subjects-History,Geography,Civics,Political Science) from 2014-2016.I worked as a guest lecturer of history in a college of Kolkata for 2 years teaching students of 1st ,2nd and 3rd year. I taught Ancient and Modern Indian history there.I have taught in another school in Mohali,Punjab teaching students from classes 9-12.Presently I am working as an online tutor with concept tutors,Bangalore,India(Carve Niche Pvt.Ltd.) for the last 1year and also have been appointed as an online history tutor by Course Hero(California,U.S) and Vidyalai.com(Chennai,India).
4.00+
2+ Reviews
10+ Question Solved
Related Book For
View Solution
Create a free account to access the answer
Cannot find your solution?
Post a FREE question now and get an answer within minutes.
*

Average response time.
Question Posted: July 27, 2014 02:15:39

Related Video
Depreciation of non-current assets is the process of allocating the cost of the asset over its useful life. The cost of the asset includes the purchase price, any additional costs incurred to bring the asset to its current condition and location, and any other costs that are directly attributable to the asset. The useful life of the asset is the period over which the asset is expected to be used by the company. To calculate the depreciation, companies use different methods such as straight-line, declining-balance, sum-of-the-years\'-digits, units-of-production, and group depreciation. The chosen method will depend on the type of asset, the company\'s accounting policies, and the accounting standards that are applicable. The straight-line method allocates an equal amount of the asset\'s cost over its useful life, while the declining-balance method calculates depreciation at a fixed rate, typically double the straight-line rate, but the amount of depreciation decreases over time. The sum-of-the-years\'-digits method is similar to the declining-balance method, but the rate of depreciation is calculated using a fraction that is based on the useful life of the asset. It\'s important to note that the depreciation expense will be recorded on the company\'s income statement and the accumulated depreciation will be recorded on the company\'s balance sheet. This will decrease the value of the asset on the balance sheet over time.
Students also viewed these Corporate Finance questions